Welcome to
Hagaled Gjestegard
We hope to give you a genuine experience of Norwegian culture
and a good nights sleep
Hagaled is one of the oldest farmsteads in the village. It has been in the family for more than 400 years, and the history-book contains many interesting people and events. The buildings are recently renovated to modern standards, but have retained their original appearance and atmosphere. The Main-building (Våningshuset ), the Brewery-house ( Bryggerhuset ) and the Storage- house ( Stabbur ) have 18 beds grouped in seven units, all with private bathrooms.
Access to the internett is available on wireless broadband.
Smoking and pets are not allowed in the room.
The rooms are named after people who lived here. Go to Overnatting to see their individual style.
( Price-list follows)
Four of the accommodations have kitchen, and self-catering is possible. You can order breakfast, served in the traditional Hallingstugu from 1630 which is a nice place to start a new day in Norway.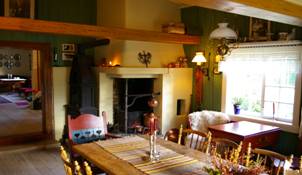 How to contact us:
| | |
| --- | --- |
| Host | Sigrunn Bæra Svenkerud |
| Company | Hagaled Gjestegård |
| Address | Alfarvegen 95 |
| | 3540 Nesbyen |
| GPS | 60.562951 / 9.111852 |
| Telephone | +47 32 07 10 07 / +47 41 41 92 16 |
| E - mail | |
| Web: | www.hagaled.no |
Best time to call is between 10.00 am and 10.00 pm.
On a busy day it may be late before we are able to answer your E-mail.
How to find us :
In the roundabout in Nesbyen, go south along Alfarvegen with the church to your right. After 600m you find Hagaled on the right hand side of the road.
Look for a white picket fence, brown houses and a red barn. Sign by the gate.
Go to Kart and point at Kart Nesbyen. Here you find a local map.
Nesbyen is a convenient place to stop between Oslo and Bergen. You can stay here and reach many parts of the country on a one-day trip.
Nesbyen has a lot to offer you with beautiful nature and cultural events. Visit www.nesbyen.no to find out about activities and places to see.